The writers here have been producing player reviews for the team since the offseason began in Columbus. I decided I would take James Wisniewski because I still have a bit of a gripe over all the people saying that Jack Johnson is the better player. I suppose that number is beginning to dwindle, but they're still out there.
Also, Wisniewski was the best defenseman on the team last season and it was a treat to watch him play.
What I'm going to show you is that Wisniewski's possession play combined with his 51 points make him the best defender in Columbus, at least for last season. His $5.5M cap hit was a weird pill to swallow when he first arrived, but that is quite a bargain by today's standards.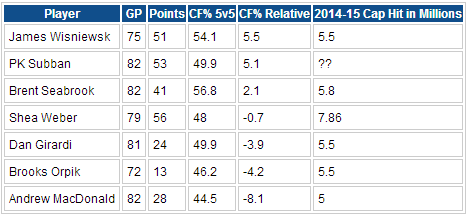 It's a pretty good deal when you put it in perspective. At least we're not fans of Washington, New York or Philadelphia.
The biggest thing that I can remember the Wisniewski critics pointing out was all the mistakes he was making in the playoffs, giveaways specifically.
When Johnson put up points in the playoffs and Wisniewski was caught making "big mistakes" that cost the team, Johnson was praised for raising his game in the playoffs. I'll admit I liked watching Johnson during those six games, but I don't think he was the better player between the two.
"The Big Mistake" was a blog post from Tyler Dellow and I believe he summed up the essence of a person's reaction to the big mistake:
If someone asked me what I think the biggest failing of the eyeball test is, I'd respond that it's the emphasis on the big mistake. There are gigabytes of information contained in a hockey game. So much information that I think it's difficult for anyone to take it in and organize it rationally. The way that our brains deal with that is by focusing on the big mistake.

What is the big mistake? The big mistake is the play that leads to a goal against. When we see a player who's made a bunch of big mistakes in a row, we get down on him. There are two problems with this. First, big mistakes don't end up in the net on a clockwork basis. If for, example, one big mistake in four ends up in the net, it's not like it goes goal, no goal, no goal, no goal, goal, no goal, no goal, no goal, goal, no goal, no goal, no goal, goal, no goal, no goal, no goal, goal, no goal, no goal, no goal. There will be clusters of goals and clusters of no goal.
I disagree with the second point that Dellow makes, to a degree:
Second, focusing on the big mistake ignores the context in which the mistake happens. A team with a 55% Corsi% has fewer opportunities for its players to make the big mistake than a team with a 45% Corsi%.
It's really difficult to track one player's time with possession of the puck, but it's likely that he who has a higher possession time would also have a higher amount of giveaways and mistakes. Just as possession leads to shots and shots lead to goals.
As most of my readers are likely aware, Wisniewski was a possession monster for the Blue Jackets last season. Easily the best player on the ice at any given time. His 51 points are a single-season record for a defenseman in Columbus and he was the best possible mentor for Ryan Murray in his rookie season.
Just how good was Wisniewski last season? We'd have to look at his teammates Corsi% with and without him on the ice, to get a really good look.
*- Minimum TOI together 150 Minutes
Surprised by this chart? The biggest surprise is how bad this team is without Wisniewski. Every player is worse without Wisniewski on the ice. (Marian Gaborik was the odd exception but his sample size was pretty small. His entire time in a CBJ uniform is rather bizarre statistically.) His presence alone boosts a few player's percentages by 10 points.
I'm not going to pull the same data for Johnson but you can go over it here at this link. It's the opposite effect with Johnson. Look, I think Johnson is a good skater and has a higher than average skill level, but it's his vision and decisions that tend to give me pause. It seems that he rushes plays and that gets him into trouble.
On the other hand, Wisniewski usually knows what to do with the puck. He's become a great mentor for Ryan Murray who has become my favorite player to watch. #DatMurrayPass should basically become it's own hashtag.
This chart was initially another idea by Tyler Dellow. The players are separarted by their TOI in the first row and column with their combined on-ice 5v5 CF% in the corresponding block.
Combine this chart with the previous graph and we basically see that Wisniewski is the only defenseman keeping this team afloat. It's almost unfair to watch him be dragged down by the rest of his teammates because we're not getting to see him at his absolute best. Or if we remove Johnson from the picture, how much better does this team begin to look?
The same story held true in the playoffs.
Wisniewski was one of three players who played all six games and had a CF% above 50% and he was the highest at 52.1%. Johnson's CF% was only 40.7%. (For the curious here are the numbers, your other two possesion champs were Comeau and Calvert.)
When you ask a player to show up for games in the playoffs, you want them to play their best game that they absolutely know how to play. It's no question that Wisniewski answered that call. He didn't have a very productive series, but neither did Sidney Crosby or Rick Nash.
The data presented makes it easy for me to make my case that the best player on the ice the past season for the Jackets was Wisniewski.
Sure, let's focus on not making costly mistakes. I'd also suggest that Wisniewski could add another weapon to his arsenal if he worked on setting up deflections in the slot for his forwards. I suspect that the coaching staff hasn't concentrated on using deflections as set plays, but it'd certainly help the defenseman. Overall, too many point shots are blocked.
But this isn't a coach review.
I hope I helped clear up any doubts about Wisniewski's status as an elite puck-moving defenseman. He's not perfect but he's the best Columbus has, by quite a bit.
For more on this topic I recommend checking Jack Johnson, James Wisniewski, and the Roles of Defensemen by The Coach on The Union Blue.
*- Statistics in this post were pulled from Hockey Analysis and Extra Skater. Featured image courtesy of Michael Miller Wikimedia Commons